---
---
AG MARKETS UPDATE: MAY 8-15

Corn planting in 2020 continued its strong pace last week as the crop is estimated to be at little less than 70% planted. This is well ahead of last year's pace and with favorable weather outlooks for the rest of May, the crop should be 100% planted by June.
USDA Report
The May USDA Report came out on Tuesday and it's safe to say it came of little surprise to most – the '19/20 US Corn Stocks were a little lower, while '19/20 World Corn Stocks were a bit higher.
The main adjustment was made in the Ethanol Corn numbers in '19/20 where they cut 100 million bushels. With Ethanol production averaging 17% lower than last year's number through August, another 100 million bushels would need to be cut to meet lower demand. Even with the country opening back up, there are still uncertainties on demands as more people are interested in a car ride over jumping into a plane. Ultimately, this report just confirmed what everyone already knew: the world is drowning in corn. With a great start to planting and estimates of a trend line yield of 176+, this problem looks to continue for corn as the year goes on.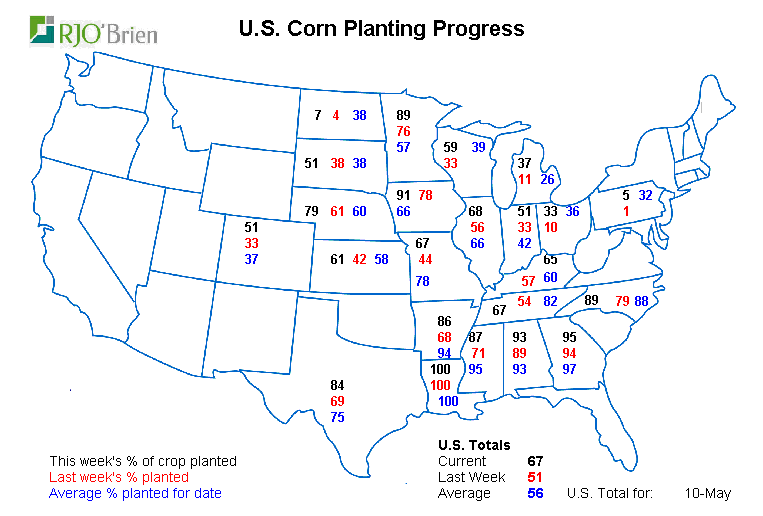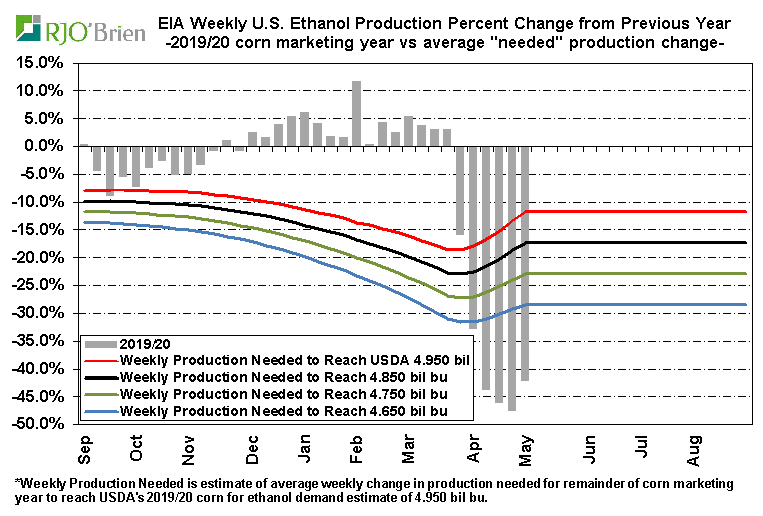 U.S. Soybean planting, like corn, continued its streak. As mentioned last week, China is well behind pace to meet the amount of ag goods purchased from the U.S. from Phase 1 of the trade agreement meaning U.S. bean prices are at the mercy of Chinese consumption. As political tensions continue to hover over the markets, prices will be dependent on U.S. and China political and/or export news. With the May USDA report being neutral to bearish, it has turned into a waiting game in the bean market as they continue to wait for buyers.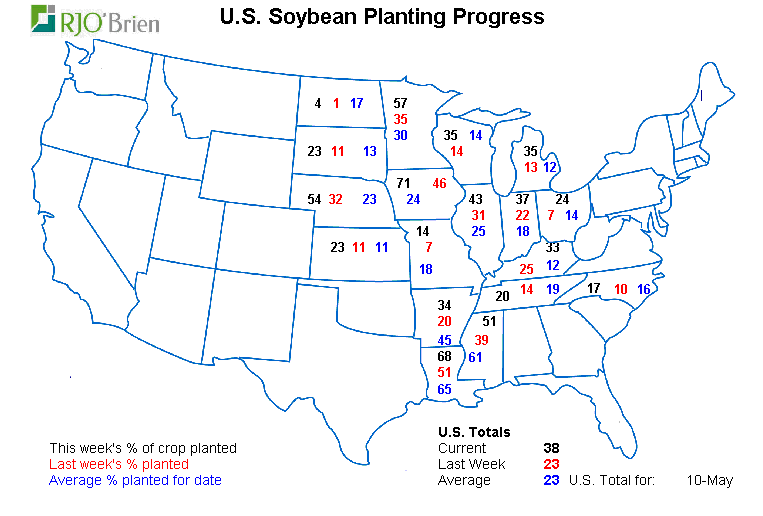 In the meats sector there is currently a disconnect between futures and cash prices; futures price is roughly $15-20 under the current cash price showing an immediate need for beef. The market is showing the packer margins are phenomenal and because of that, the packers are trying to throw the ranchers a bone by offering over the futures price, but not anywhere near the margin difference they are making. In essence, the packers are buying for relatively cheap and selling for a lot more than they usually would as supplies are tight. This is part of the reason the Trump administration is looking into the meat industry, as several large players are foreign-owned. China will not be buying any cattle from Australia due to their criticism over their handling of COVID-19, so some of that demand may be filled from the U.S. but seeing as we are struggling on our end with production, that would put another strain on the market.

Cotton looks to be experiencing a short squeeze this week on July futures. The Midsouth is behind on planting due to cool weather over the past couple of weeks; soil temps need to be above 65 degrees for planting and the mid-south has had several nights in the low 40s in May.
Cool temperatures are a little surprising this time of year, but I think we'll get through that fairly unscathed. It's warming up pretty fast, so it shouldn't hurt us too badly. Dan Fromme (AgFax)
Cotton needs manufacturing around the world to ramp up as countries begin to drive demand. The USDA report this week was neutral-to-bearish and cotton has managed to hold on to most of its gains making short speculators nervous. They'll be keeping a close eye on Thursday exports as there's only one month remaining in the July futures contract. Buying from China, like with any other commodity right now, would be a welcome sight.

Relief Package
The House is expected to vote on another round of financial stimulus equaling out to $3 trillion. In this bill, $16.5 billion may be earmarked for direct farm payments and help for the ethanol and biofuel industry. It may also direct the USDA to reimburse any livestock producer that had to euthanize animals due to closed processing facilities (more on that here).