December has not been good to corn as we started the month with a slide lower into the $6.40s. There has not been any major news change with a good start for corn in Brazil, China lockdowns, and the war in Ukraine continuing to hold the headlines. While weekly exports have been good but uninspiring, the weakness in the USD should help US ag exports be competitive in the coming months before the South American harvest. The humanitarian corridor has continued to work as ships leave Ukraine, but as always this is something to keep an eye on for any bad developments. Russia is expected to resume ammonia exports soon, which would help keep input costs for 2023 from getting much higher.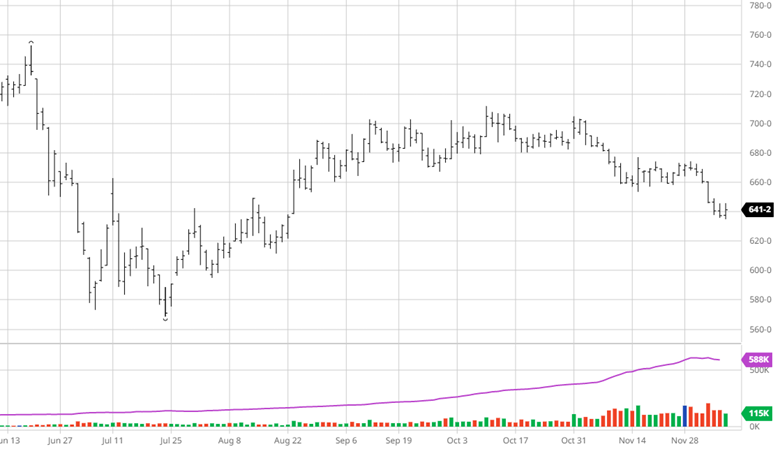 Soybeans have seen a nice improvement with their slow march higher from the beginning of October. The EPA came out with lower-than-expected biofuel mandates sending soybean and other world veg oil prices lower while meal has taken off higher. Soybeans hit their highest price since mid-September this week with buyers coming back in the market with a weakening USD. South Americas start has been good enough to where the market expects them to produce another record crop but there is still a long way to go. Right now, there does not appear to be much higher of an upside than the low $15 range in the near term, but if South America has weather problems, that could be the catalyst to move higher or if weather remains good the next move lower.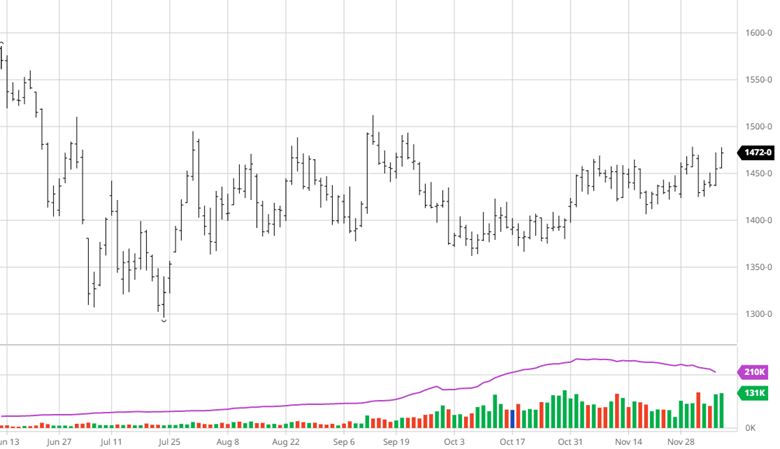 Crude Oil
Crude has had an interesting second half of the year following its peak in June. While it has traded between $80-90/barrel most of that time, this recent dip below $75 shows there is a lot of uncertainty as we head into winter. The sanctions on Russian oil by capping it at $60 goes into effect this week while many investors do not expect to see it having a major impact immediately. With Russian oil already trading below the $60 and their breakeven closer to $40 it does not appear this will dampen exports for them with India and China continuing to buy. Europe is still struggling with energy as the war in Ukraine continues. Further guidance from the UN or another shock to the market (China loosening Covid restrictions) could send Crude back higher to its recent trading range.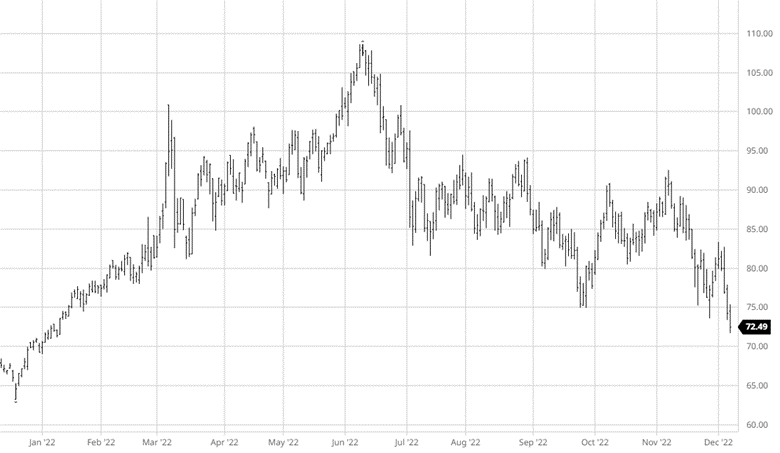 Equity Markets
The equity markets had a great November rallying over 10% but have gotten off to a sluggish start in December. While data comes in still pointing to a strong economy and job numbers the ball is in the Fed's court on what to do with rates. It is expected that there will continue to be rate hikes into 2023 with the Fed potentially keeping rates higher for longer than originally anticipated but slowing the rate at which they raise them. Some of the largest companies in the world have either laid off workers or frozen hiring as many questions remain for next year.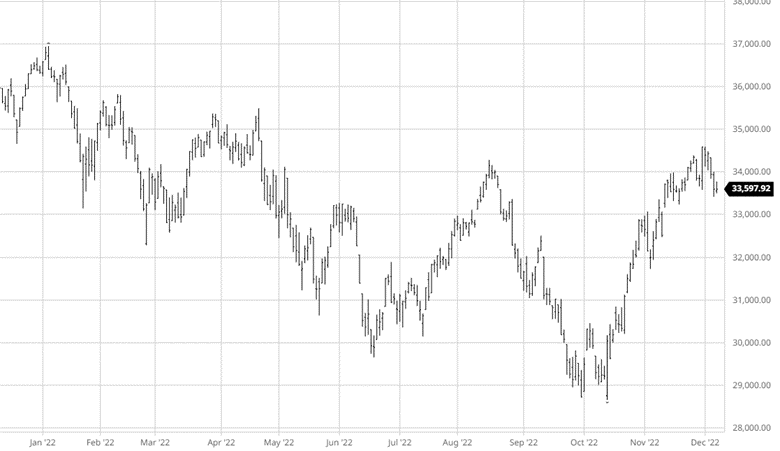 Drought Monitor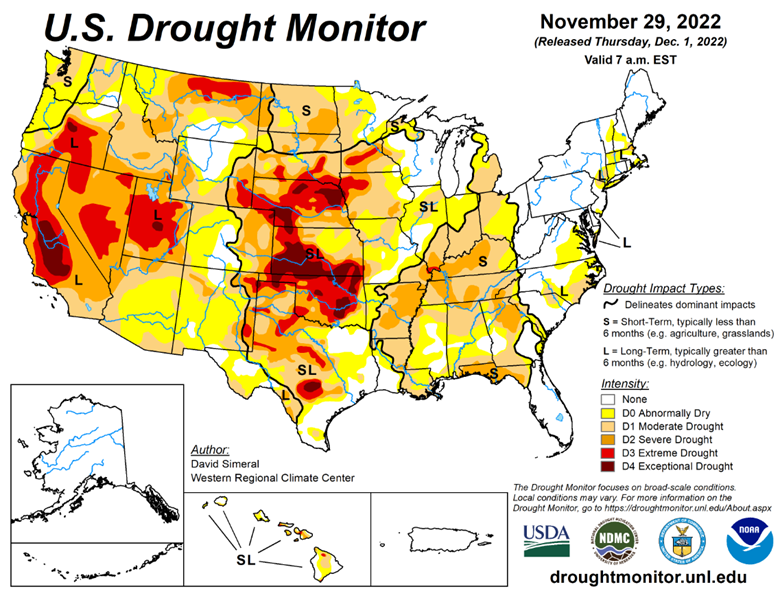 Podcast
The Hedged Edge is back online with a guest who could be this podcast's most important guest of all time. At a time when inflation is running rampant through the world economy, drought conditions are drying up our rivers, and the global supply of grain is scarce. We are tasked with the question, "what the hell is going on in logistics, and is there any relief in sight?"
To help address these questions and more, I am joined today by a man that needs no introduction to most in the physical commodity sector – Woodson Dunavant with the Dunavant Logistics company based in Memphis, TN.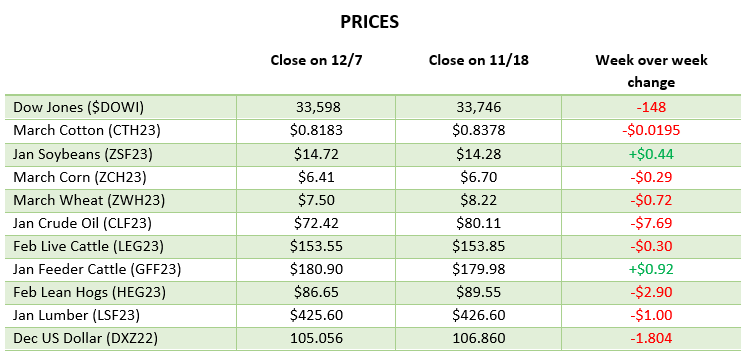 Via Barchart.com
Contact an Ag Specialist Today
Whether you're a producer, end-user, commercial operator, RCM AG Services helps protect revenues and control costs through its suite of hedging tools and network of buyers/sellers — Contact Ag Specialist Brady Lawrence today at 312-858-4049 or [email protected].