Corn had a volatile week suffering losses to drop back to levels it saw at the start of last week. The USDA report on Tuesday this week wiped out the gains from last week after a bearish report. Ending stocks came in higher than expectations, not by much, but enough to be bearish. The recession fears affect every market and corn is no different as ending stocks will grow as less ethanol is produced and other uses will lower. The weather is the bullish factor in the market right now with hot and dry conditions expected across much of the corn belt during pollination. The longer this weather outlook stays, the more bullish it will become as yields struggle. Russia says they have agreed to a safe export corridor for Ukrainian grain.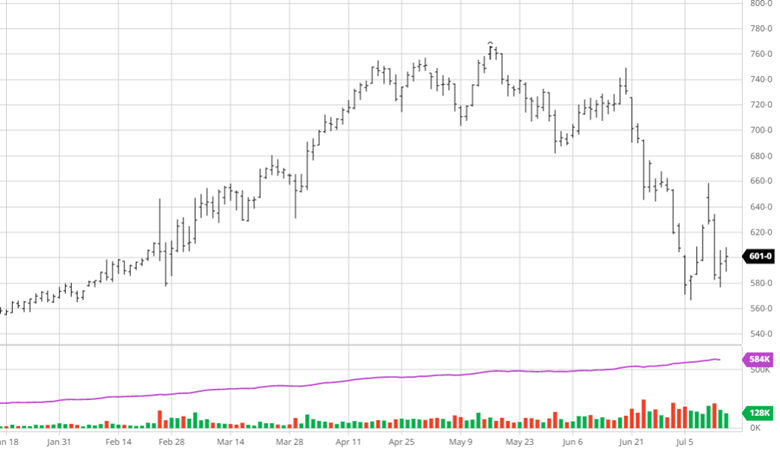 Soybeans took it on the chin post report just like corn. While the report numbers were not overly bearish the loss in crude oil and soy oil prices have weighed on beans lately. The weather issues for corn are not as big a concern for soybeans (yet) but will be something that could come up in the future. South American yields are still hard to get a full picture of with the USDA still differing from many estimates. China canceled a bean purchase on top of a poor export report for the week.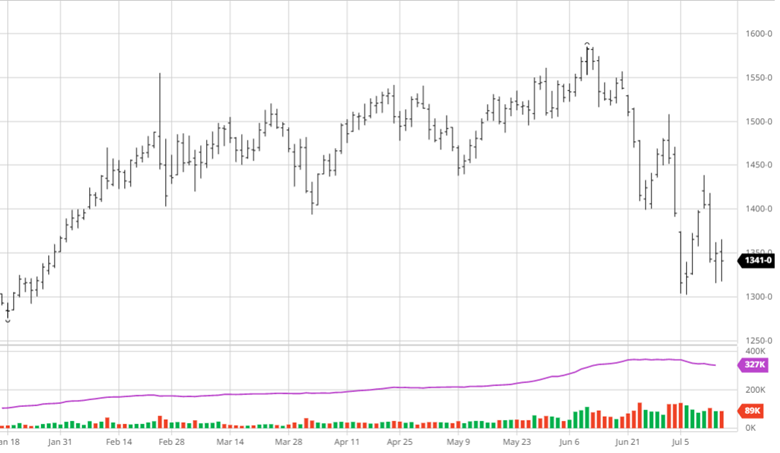 Cotton has continued its move lower despite widespread abandonment in west Texas. This comes from the expect of demand destruction with a potential worldwide recession ahead and producers sitting on plenty of supply. Prices could be even worse if the US was having a good growing season, but the demand destruction along with a very strong US dollar does not help cotton. With the loss of many hedgers in the market due to the loss of crop, specs will be the market mover, trading on technical indicators, not fundamentals, for the foreseeable future and will decide the direction with mills on the sidelines too.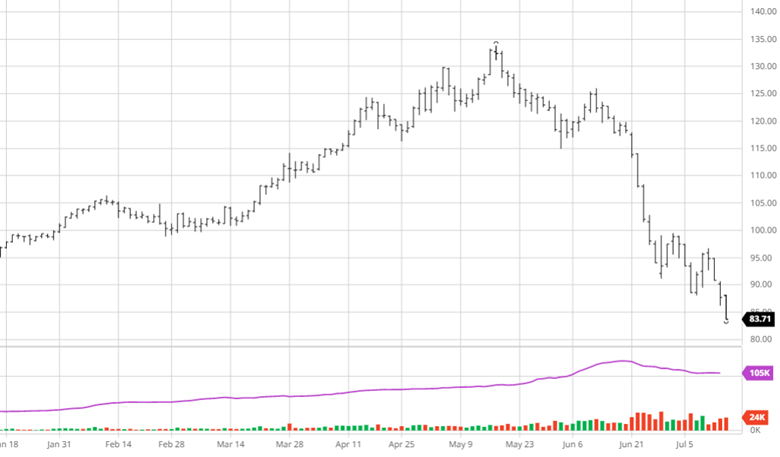 Equity Markets
The equity markets continue their game of "recession or not" with the up and down trade. Another hot CPI number of 9.1% came in this week, the market was expecting it to be in the high 8s so this was still a bad number. While commodity prices have come down other areas of the market remain painful. Earnings this week were disappointing for banks kicking a market that was down and needed some positive news. The market will continue this back-and-forth game until everyone decides we are in the clear or the recession is unavoidable.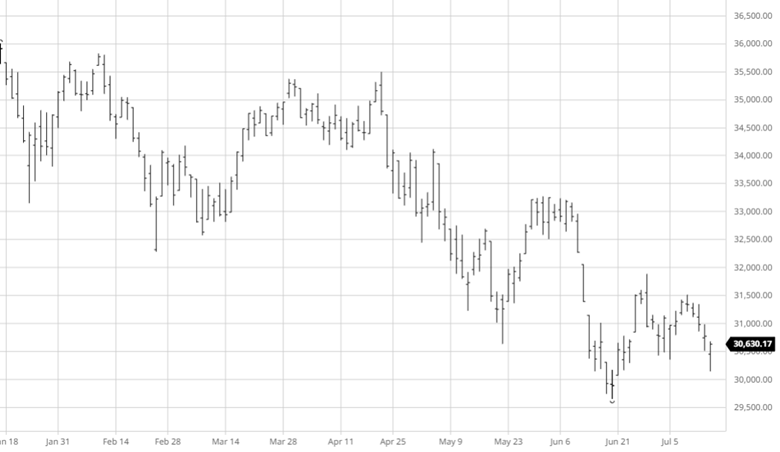 Drought Monitor
The drought monitor below shows where we stand week to week.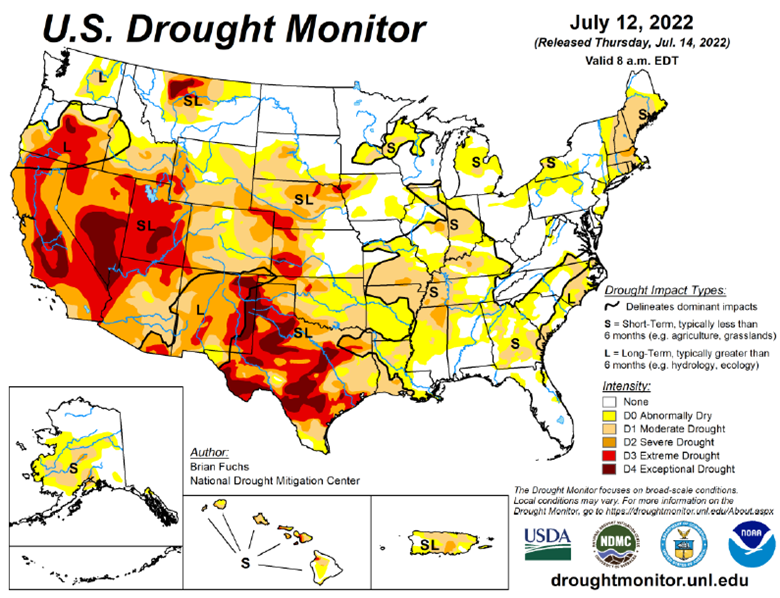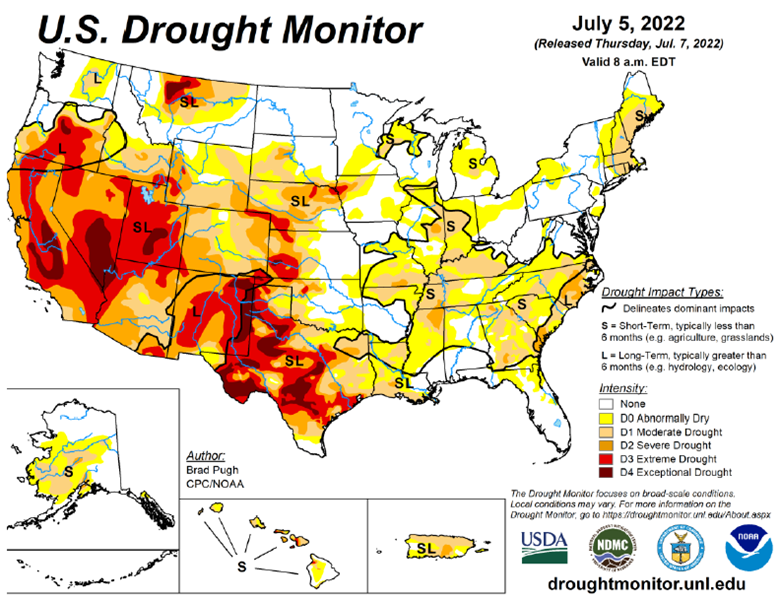 Podcast
There is an agriculture tug of war happening across the nation, impacting America's farmland. Fertilizer prices are continuously fluctuating, and it has us taking a page the "The Clash" should we stay, or should we go?! And we aren't the only ones. Many farmers are asking their agronomist and chemical salespeople, "what will fertilizer cost me the rest of the season, and what are my options if I don't want to go all-in on my typical fertilizer treatment plan?"
In this episode of the Hedged Edge, we are joined by a special guest who needs no introduction in his local circle, Dick Stiltz. Dick is a 50-year veteran of the fertilizer and chemical industry and is the current Agronomy Marketing Manager of Procurement fertilizer and crop protection at Prairieland FS, Inc in Jacksonville, IL. He is at the pulse of the current struggle and here to discuss the topic at hand.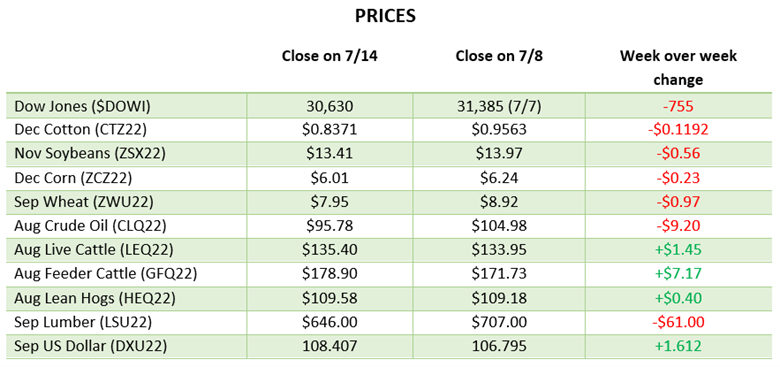 Via Barchart.com
Contact an Ag Specialist Today
Whether you're a producer, end-user, commercial operator, RCM AG Services helps protect revenues and control costs through its suite of hedging tools and network of buyers/sellers — Contact Ag Specialist Brady Lawrence today at 312-858-4049 or [email protected].