---
---
AG MARKET UPDATE: OCTOBER 21 – 28

Corn has continued its rally as the bulls seem to have their mojo back following a time where they could have been uneasy. Despite the disappointing export report, corn was able to keep the momentum going Thursday. This week's weather week will slow down harvest and could cause issues for what is remaining in the field. Higher basis has been seen across most of the country as a lack of available corn continues to put pressure on elevators while ethanol plants are running on great margins and can afford the basis. Going forward it will be interesting to watch how farmers manage the corn they store. Do they hold it until we see much higher prices? Will basis become so favorable it is hard to hold on to it while farmers are making payments for products for next year? These questions do not have any answers right now, and only time will tell, but one thing is for sure, input prices are going up and farmers know how valuable their crop is.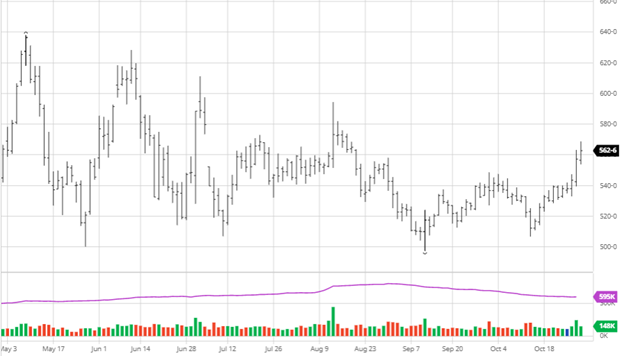 Soybeans have had a good bounce from their low a couple of weeks ago, even if it is not as an inspiring rally as corn. Like corn, the weather will delay harvest and reduce yields in many areas that were off to a great first half. South American weather is generally good for the next week with Argentina receiving their best rains of the season so far. The weather over the coming weeks/next couple of months will be important to getting them off to a good start. Like corn, it will be interesting to see the number of beans stored vs. sold after harvest. As beans continue to struggle to find a pattern, we hope to see one develop in the coming weeks, hopefully, a good one.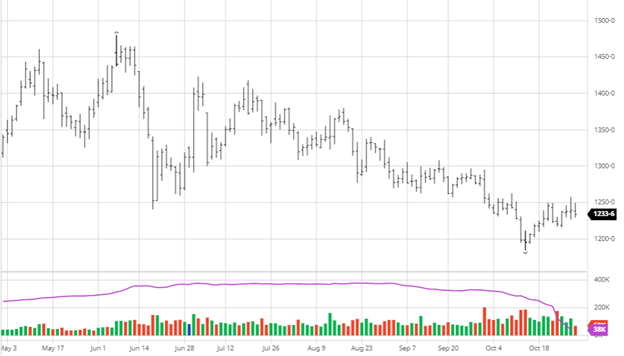 Dow Jones
The Dow had another good week with one big down day followed by a bounce-back on Thursday. As Q3 earnings continue to roll in, it has been a mixed bag with large companies like Amazon and Apple falling post reporting.
Oats
The Oats market has been on a tear the last two months as Canada's and the upper plains crop had a multitude of issues due to drought conditions. This has created a supply problem on top of already higher grain prices across the board this year.
Podcast
The Hedged Edge is back, and we're jumping into the thick of the commodity markets with RCM's own King of Cotton – Ron Lawson. Cotton prices have exploded since the COVID crash, rising more than 236% from the March 2020 lows. While prices have backed off from the October 8th high, cotton is one of the purest supply + demand-driven markets around the world and has caught fire along with the global inflation bug currently running rampant across many commodity markets.
U.S. Drought Monitor
The maps below show the U.S. drought monitor and the comparison to it from a week ago. The outlined areas in black are areas that the drought will have a dominant impact.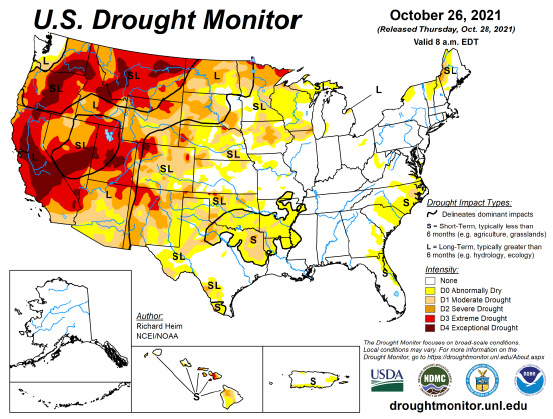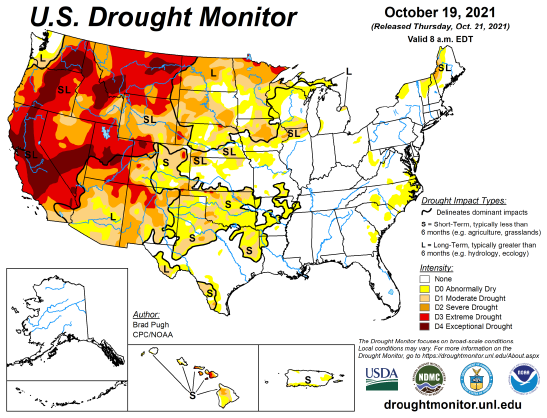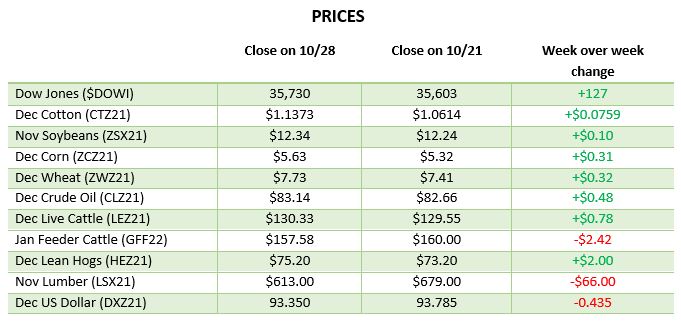 Via Barchart.com